Have you ever noticed how some reviewers post a review of a forthcoming movie just days before it opens to the general public? Yet they never disclose how they got free tickets to see a preview screening.
Are they sleeping with the teenagers behind the concession stand at the movie theater?
Do they know someone who is waiting tables to make it big in Hollywood?
Are they taking cash payments from the movie studios?
Last Spring I saw two movies, Disney's "Aladdin" and Amazon Studios' "Late Night", in free preview screenings. I slept with no teenagers, I know no one in Hollywood, and took no cash payments. I did accept free tickets from two third-party websites, See It First and Gofobo, that anyone can sign up for.
DISCLAIMER NOTICE
Before I deep dive into the differences between See It First and Gofobo, I need to need to explain the disclaimer statement that I use in my own reviews.
This review is not a paid promotion even though THE VENDOR provided two free tickets for a friend and I to see THE MOVIE before it opens to the general public. THE VENDOR is a website that offers free tickets by invitation to see preview screenings of the newest movies. I'm under no obligation to make this video and THE VENDOR provided no editorial guidance for this video.
THE VENDOR is either See It First or Gofobo, and THE MOVIE is the movie that they're offering free preview tickets for.
If necessary, I'll mention any restrictions that THE VENDOR may impose as a requirement to see the movie.
The only restriction imposed was absolutely no recording devices, including cellphones, inside the movie theater.
Disney movies are most likely to have any kind of restrictions. You must surrender your cellphone for bagging at the theater door or turn it off before the movie starts. There are dire consequences for violating the restrictions set by the House of Mouse. Getting kicked out of the movie theater is the least of them.
Why do I add this disclaimer in my own reviews? Besides doing the right thing for my audience, a disclaimer avoids any potential conflicts with the Federal Trade Commission on paid promotions. A simple misunderstanding with the FTC could result in hefty fines. On that not this review is not a paid promotion and neither See It First nor Gofobo provided any editorial guidance for this review.
SEE IT FIRST
When I got an email from See It First to preview Disney's "Aladdin," I tried to register for an account only to discover that I already had an account with them. After I did a password reset and logged in, I got my first—and last—set of preview tickets for Disney's "Million Dollar Arm" in 2014. That movie was about a real-life sports agent who revived his career by recruiting a pair of young cricket players from India to play baseball in the United States. Because it was a Disney movie, my friend and I had to bag our cellphones at the theater door.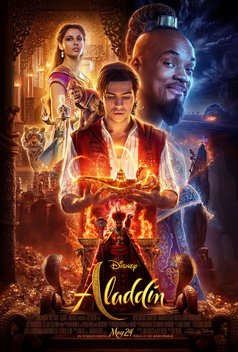 My friend and I showed up at 6:30PM to stand in line for the 7:45PM showing of "Aladdin" at an AMC Theater. We discovered that the people behind us had also gotten a See It First email out of the blue. Their last preview tickets were for "Million Dollar Arm" in 2014. I guess See It First doesn't have too many preview showings in Silicon Valley for the last five years. The people in front of us were waiting for the 7:00 PM showing of "Aladdin" with fliers handed out at a Golden State Warrior basketball game by a different company.
The two showings were held in the two smallest theaters with slightly more than 100 seats each. You need to arrive early with your "first come, first served" ticket printed out if you want to get in. You could easily spend several hours in a line without seeing the preview showing. That happened to one couple who missed the first showing and couldn't get into the second showing. Because this was a Disney movie, we were told to turn off our cellphones before the movie started.
GOFOBO
Gofobo is perhaps the most active of the two websites. After signing up for an account, you will get email invitations for preview tickets that varies in frequency from once a month to three times a week. The flood of emails during the summer and holidays can be daunting.
For many years I avoided getting preview tickets from Gofobo. I had to physically pick up my preview tickets from the movie theater on the same day as they become available. Otherwise, they were long gone. Driving across town in commute traffic to pick up tickets during the middle of the week was more of an inconvenience than standing in line for several hours with a hope of getting in.
I thought that changed when my friend and I showed up early for the 6:30PM showing of "Late Night" with our "first come, first served" tickets printed out. Except there was no line to be found, which was unexpected and kinda odd. When we went to the box office, we were told to pick out our seats on the computer screen. AMC Theatres at the time switched over to reserved seating for all their theaters.
For the "Late Night" showing, the middle center seats were unavailable. We picked seats that were off-center from stage left. The printout became a pair of regular tickets. You still need to hurry over to the box office to reserve your seats and get tickets.
---
Which free preview ticket website should you sign up for? If you don't mind getting preview tickets every five years, go with See It First. Otherwise, go with Gofobo. Or sign up for both.